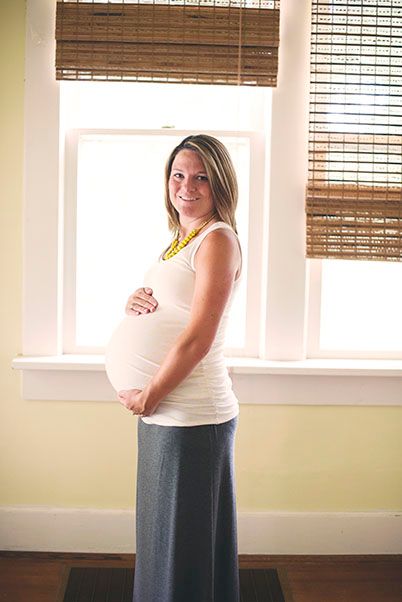 Yay for making it to 38 weeks! I would be lying if I said I wasn't getting anxious, but I know she will come when she wants to come. I think the hardest part of the end of this pregnancy is waiting. The fact that I went into labor at 32 weeks and prepared myself (but hoped I wouldn't) to meet her early, has me so anxious to snuggle her. That, mixed with people asking me 50 times a day if there's any update, have me excited and NOT waiting patiently. That being said, I know how much brain development takes place between week 37 and 39, so I am glad I've made it another week. Now my only concern is birthing a large baby.
Baby G's size: Baby girl is about 19.5 inches long and weighs about 6.8 pounds according to Baby Center. I think our girl is bigger, based on past ultrasounds, but I'm hoping those were off. I don't think I can deliver a 9 pound baby!
My size: Apparently, I waited to put on lots of weight until the end of this pregnancy! I gained another 2 pounds in a week, putting me at 130 pounds. That means I've gained a total of 16 pounds. That's still 4 less than with Kason, but at 130, I'm the heaviest I've ever been and feeling it! Here's to hoping this baby girl comes soon!
Movement: Movement is 100% uncomfortable at this point. I feel bad for her, since I don't give her much room to move around, but OUCH. Each little movement really hurts.
Most exciting thing: Just making it another week. The anticipation of seeing her sweet face has me so excited. :)
Most annoying thing: All around discomfort. I'll leave it at that.
Sickness: Still feeling nauseous.
Next appointment: I went to the doctor today, and will go back again in a week. Every week my OB says, "See you next week, if you're still pregnant!" and every week, I waddle back into that office. I'm sure it'll be the same this week. I'm still holding strong to my desire to go into labor naturally. I don't want anything to do with being induced or pitocin, so I'm praying she comes on her own. I had my my membranes stripped today, so I'm praying labor is in the next 48 hours. We shall see!