From the moment I found out I was pregnant I had some anxieties about Kason becoming a big brother. Don't get me wrong, I was so, so excited to give Kason a sibling, but my nerves got the best of me most of the time. I distinctly remember the moment the anxiety started. I had just found out I was pregnant, and had only told one of my best friends. She was so excited, that she came over with a sweet little "big brother" book for Kason. I remember watching Kason sit on the floor and look through it, and I just started to cry. We were trying to get pregnant, but never had I really thought about how it would effect Kason. His whole life was about to change. He would no longer be our only child, and he'd have to learn to share his mommy and daddy. That was a hard pill to swallow. He'd been our baby, the center of our world for 2 years, and now he'd have to share his role with a sibling. Was I ruining his life?!
I struggled with this throughout my pregnancy until one day I decided to stop worrying. I have such a strong relationship with my sisters, that I was so excited to show Kason the love of a sibling. I knew they would be close in age, and that would be hard at times, but I hoped in the end it would make their bond stronger. I knew Haddie would be the perfect playmate for Kason, and I couldn't wait to watch Kason teach her all of his "tricks". :) Kason loves babies, so I knew he would love his baby sister. I continually prayed that God would help us all with this transition, and that Kason would never feel less loved or left out. I'm so glad I put my worries to rest that day.
Fast forward a few months and I began thinking about our first moments together as a family of 4. I knew without a doubt that no matter what time I had Haddie, I wanted Kason to be the first one to meet her. I wanted those few intimate moments with just my sweet little family. I wanted it to be a special time, one that I would remember forever. I can say without a doubt, that I will never forget the moment my sweet big boy met his tiny baby sister.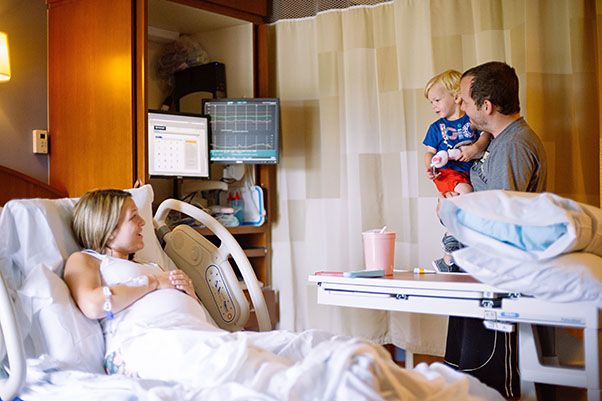 Since I had Haddie early in the morning, my parents brought Kason to the hospital around 10:30 am. My dad sent Kason into the room by himself. I will never forget how big he looked walking into the room with his "big bro" shirt on. I immediately teared up. Kason had no idea how much his life was changing, but I knew how special this moment was. My heart had indeed grown so much in the past 12 hours, and to have both of my kids in the same room was an overwhelming feeling. Kason ran right to Duane and Duane picked him up. Haddie was still under the warmer after her bath, so Duane took Kason to the warmer and introduced him to his baby sister. Kason looked slightly confused at first, but eventually decided to tickle Haddie's toes, a sign that he accepted her. :)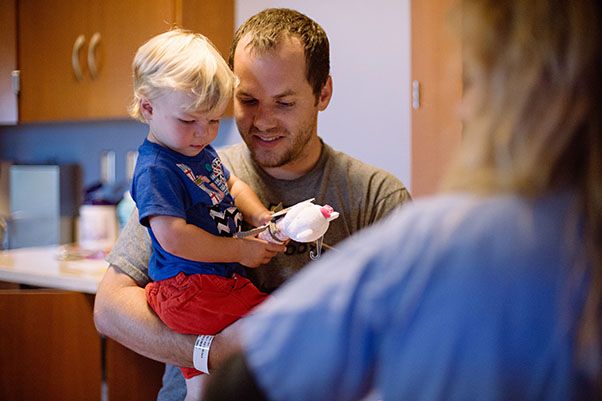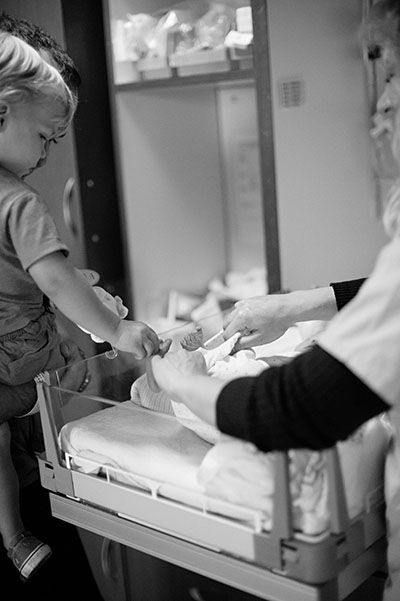 Duane let Kason down and he ran over to me. I wasn't sure how he'd react to me being in a hospital bed, but he climbed right up and gave me a huge hug. After snuggling Haddie, all of Kason's features felt big to me. He was going from my baby boy, to my big boy. Duane brought Haddie over to us, and Kason was able to hold her for the first time. He gave her a little blanket animal that he had picked out for her a few days prior. He was so sweet and so loving, that I almost couldn't believe it. My heart was so, so full.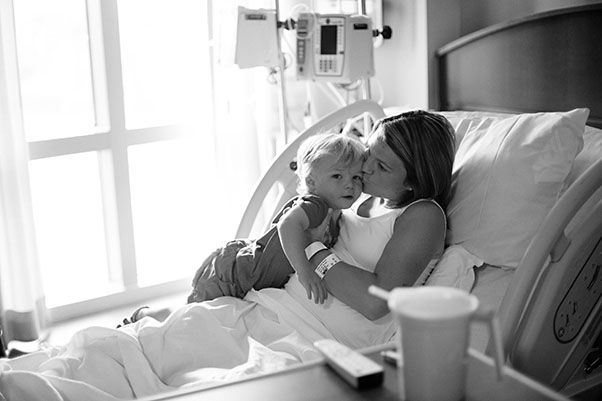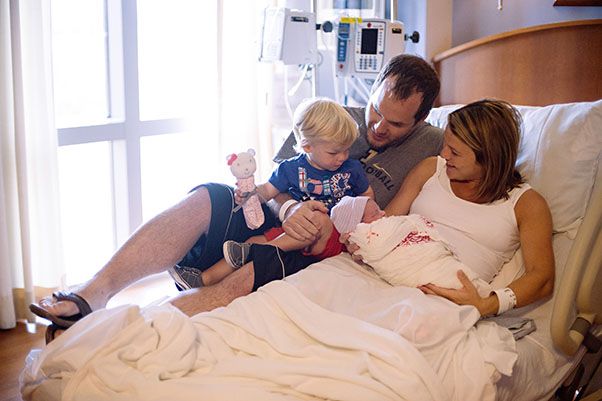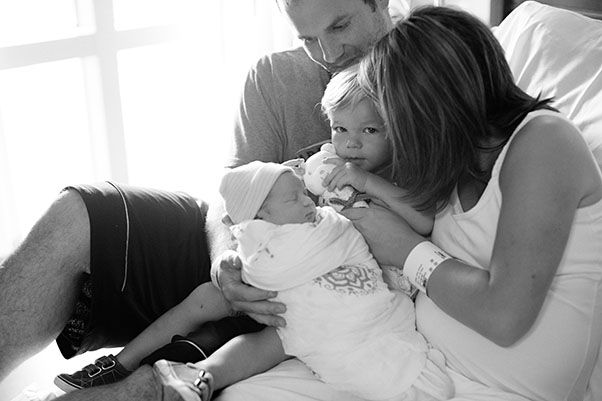 One of THE sweetest moments was when our families came into the room. They all were snapping photos of the FOUR of us, and Kason snuggled into Haddie, closed his eyes, and just loved on her. It's almost like he was so glad that after 9 months of talking about her, she was finally here. I am so glad this moment was captured. I tear up every time I look at it.
Once our families came into the room we gave Kason his gifts that were "from Haddie" and he played for a while. He would spend the mornings and evenings at the hospital with us, and spent the rest of the time with my parents. Although I loved having him at the hospital, my busy boy would get bored quickly, so I'm very thankful my parents were willing to keep him. It was also so special for Duane and I to get some one-on-one bonding time with Haddie, before we got home.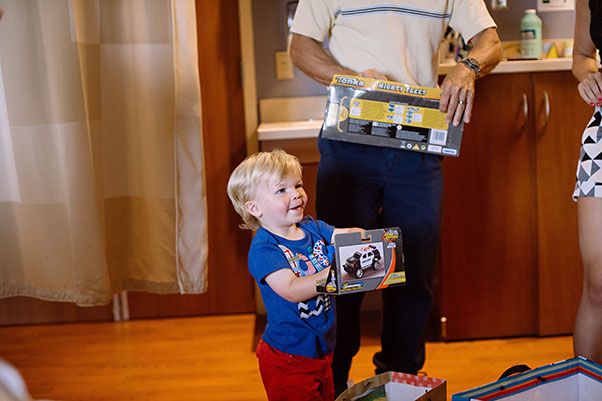 Kason had been the best big brother since that day. He's so loving toward Haddie, and although he doesn't pay a ton of attention to her, I just love to watch him interact. If she's laying in her bounced I'll find him sitting on the floor by her giving her high fives and knuckles. He gets SO excited when she's awake (it's not often we see her eyes) and always yells "Haddie waked UP!!" I love watching their little relationship already form, and can't wait to see it develop over the next year.
**I am SO, SO thankful for these photos taken by
Megan Lindsey Photography
. She photographed Haddie's birth, and was so sweet to photograph our first moments as a family of 4. These photos mean more to me than words can express, and I'm so grateful for them.**