December is here! It literally feels like
yesterday
that I was waddling around carrying a baby inside my body. Where did this year go?! Ok enough with the "time is moving too quickly talk."
Although I'm not a huge fan of winter, I do look forward to December every year. Here are somethings I am looking forward to this month...
1. Christmas break - Obviously this is first on my list. I'm exactly 2 weeks and 4 days away from 17 days off. I can't wait to be home with Kason for a couple of weeks. I also can't wait to not have to set my alarm clock for 5 am..because that gets old. Really old.
2. Christmas movies - Love these things! I'm excited to watch some on Netflix and DVD.
3. Christmas shows - We are going to a Christmas show with friends in a couple of weeks and I can't wait! I used to go to this show with my family when I was younger, and I have lots of good memories of it. It will be a fun date night!
4. Christmas light drive - Duane and I love to grab a Starbucks, turn up the Christmas tunes, and drive around to look at Christmas lights. We aren't much for cheesy decor, but we have a couple of favorite neighborhoods we always drive through . This might be a little tricky with a 8.5 month old that gets bored in the car. This might have to be an "after bedtime trip!" :)
5. Christmas cards - Nothing is better than opening the mailbox to a handful of colorful, festive cards. This is the only time of year I actually look forward to getting the mail. The rest of the year it's just bills, bills, bills. I love to see pictures of friends and family that I don't get to see everyday. We have actually already gotten our first Christmas card...on November 28. We haven't even had our picture taken for our card yet! Yikes!!
6. Christmas craft shows - My favorite one is tomorrow! This always gets me in the spirit!
7. Warm clothes - For Kason, of course! He looks so cute all bundled up in his coat and hat. All of his dressy coats have been way too big but one of them finally (almost) fits! I love this little guy in sweaters, hooded sweatshirts, warn corduroy pants, and of course winter hats.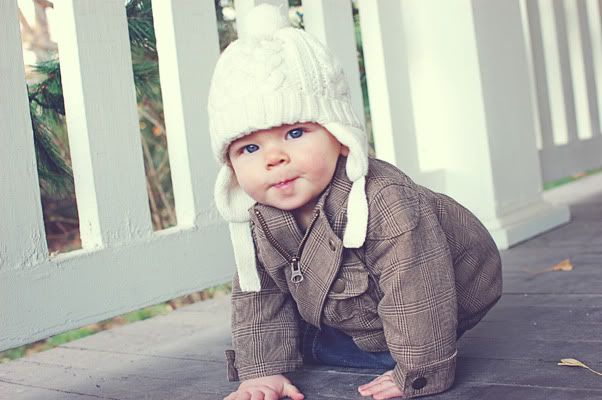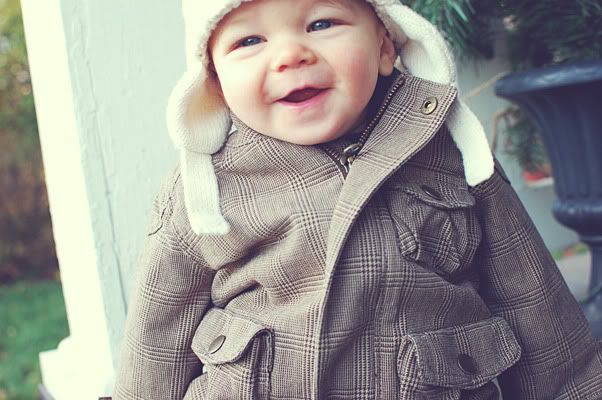 8. The perspective of walking - Kason is gearing up for walking! I'm fairly certain that this could be the month out boy starts walking. If not December, then for sure January! Check out his practice!!
Above all of these things, the thought of starting new traditions with Kason warms my heart to no end. Duane and I both have so many happy memories of the holidays, and I can't wait to create memories with Kason. We're excited to spend time with friends and family that don't get to see Kason all that often. Although I hate winter, I sure am looking forward to this month!
Happy December! :)