I wanted to blog about what I am thankful for each day of November, but let's face it, there's no time for that! It's November 13 and I have yet to blog one thing! I've been trying to think of 5 original things that I am thankful for. Obviously I am thankful for Kason and Duane (and the rest of my friends and family) but I wanted to think of some more unique ones. Here's what I came up with...
I am thanfuld for...
1. Mom friends. I have a lot of friends that have older kids, and it is SO nice to be able to call or text them with any questions I have. I also have several friends that have babies (all of them boys) that were born within a few weeks of Kason. It's always reassuring to talk to them and realize that you are going through the same things. They understand how hard it is to be a working mom. They understand that not all babies sleep through the night at 6 weeks and continue doing so. They understand that it's hard to take an 8 month old out in public past his bedtime. They just get it, and I'm so thankful for that and them.
2. Kason's curiosity and innocence. Ok maybe that's two things, but I'm putting them together as one! It is so sweet to watch Kason figure out the world around him. I love how curious he is. He is so interested in the most simple things. His favorite toy right now is a wooden spoon. He can sit and play with that thing for 15 minutes which let's face it, is a long time for an 8 month old. Sometimes I get sad to know that Kason will someday not be so innocent. He will have to deal with heartache and pain. He will have to deal with people being mean. Someday he will want fancy things like an iPad or a iPod. It makes me so sad to think about that, so for now, I'm going to cherish his innocence and the fact that a wooden spoon is pretty much the coolest thing in Kason's life. :)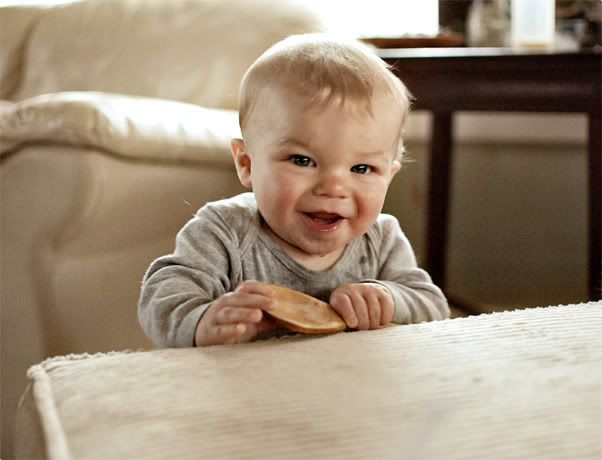 3. Date nights. Sadly, these have been few and far between. However, they are making a come back! I'm setting my guilt aside and realizing how important alone time with my husband is. Last night we went to dinner with some friends. We all have babies that were born in March and we all struggle to leave those sweet boys. Saturday night we all got babysitters, went out, and had so much fun! We were laughing because we nearly closed down the frozen yogurt place we went to after dinner. Staying out past 10 is a big deal for exhausted parents! We all agreed that date nights every other month are a must.
4. My students. I complain about working a lot. It's been a hard transition and I've just settled on the fact that it's not going to get easier. That being said, everyday I am so thankful for the 25 sixth graders that walk through my classroom door. Our school has about 75% (or more) of our kids that receive free or reduced lunch. Some of my kids have rough lives. I know I am there to show them love and to show them God's love. It just breaks my heart to know what they go through, and I don't even know the half of it. I'm so thankful God placed them in my life. They teach me so much on a daily basis. So as much as I dislike being a working mom, I do love teaching and feeling like I have an influence on kids' lives.
5. Pictures. I know, I know, I take at least 100 pictures each day. I just can't help it. These past 8 months have just flown by. Considering my horrible memory, I like to snap a picture of Kason each day. He changes so much in such a short amount of time, I want to make sure I remember each of the stages he goes through. I'm working on putting together a book for Kason's first year of life, so I know I'll be so thankful I took and edited so many pictures! :)