Saturdays always make me smile. I love that Duane is home to spend time with Kason and I. It's probably my favorite day of the week. On this particular Saturday there are a few things that are making me smile.
#1...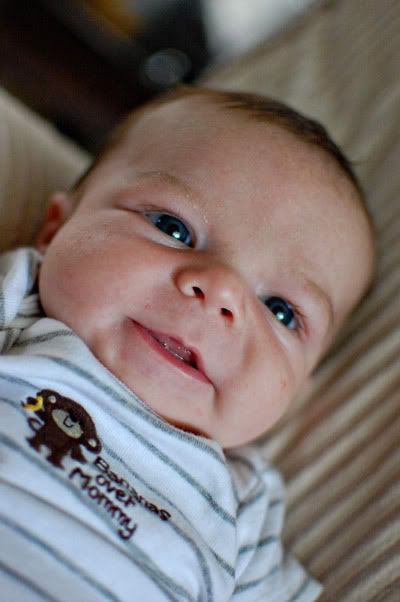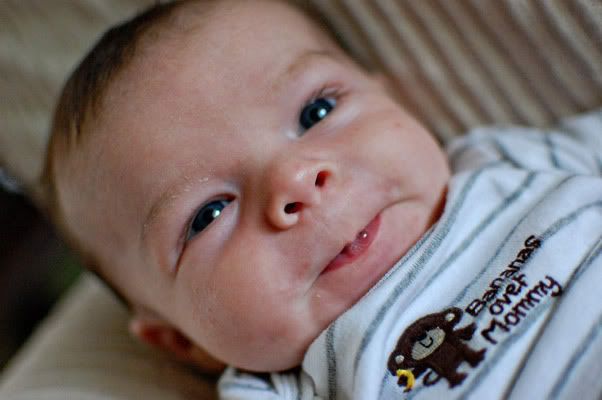 This sweet face always makes me smile, but I LOVE that he has started smiling at me all of the time! Right after her gets done eating I set him on my legs and he just talks to me and smiles at me over and over again. It defiantly melts this mama's heart! Here's some more sweet smiles...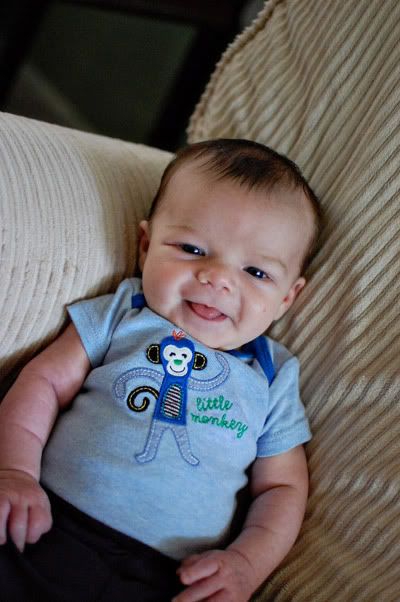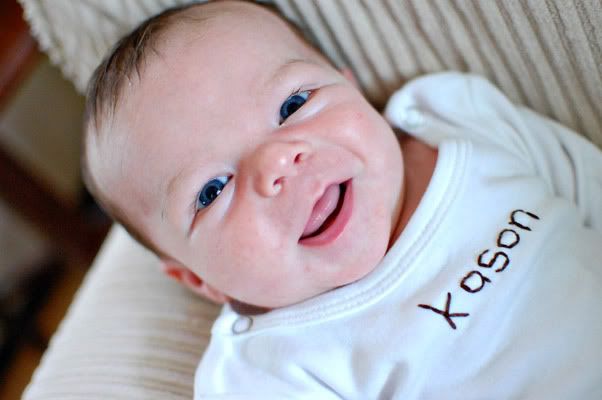 #2...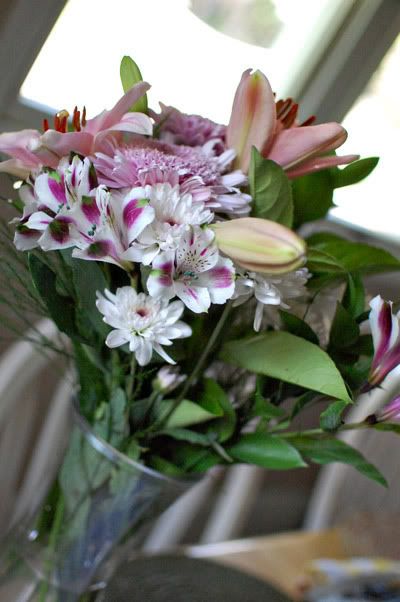 Duane brought me home these flowers this week. They are so pretty and really made me smile. Truth be told, it's been a rough couple of weeks for Kason (and mama and daddy). He has been extremely fussy while I'm trying to nurse him. Actually, fussy is an understatement, he was screaming while I was trying to feed him. I finally broke down and took him to the doctor. He was diagnosed with a bad case of acid reflux. Yuck! The doctor gave him some meds that should help, but won't cure it. He told us that Kason would eventually grow out of it, but it would be a few months. Yikes! However, the medicine is helping and we've had a couple of really good, screaming free days!
Back to the flowers, Duane knew I was having a hard time with the way things were going. After all, it's already a little stressful being the only one that can feed our baby, but to add in the constant screaming while I feed him and let's just say it was stressful and very emotional! I have to give MAJOR props to my husband. Not only did he bring me flowers, but he has been such a HUGE help. I know he can't feed Kason (although he has been giving him bottles with pumped milk) but he helps in every way he can. He still gets up at 2 am and changes his diaper before I feed him. If Kason is having a rough night, Duane will help try to calm him down, even if he doesn't get a whole lot of sleep. I know that this is not the easiest thing since he works all week, but it really helps me. As soon as Duane gets home from work he takes Kason from me and gives me a little break. This is so nice, but I know it's not easy after a long days work. I often think husbands might think that since we're at home all day, we have the "easier" day and therefore don't need as much help. However, with how cranky Kason has been the past couple of weeks I desperately need Duane's help when he gets home. Duane understands that I work just as hard at home as he does at work and for that I am SO grateful.
#3...
Tomorrow is my first Mother's Day! I'm so thankful to be Kason's mama and can't wait to celebrate the day with him! Last night Kason gave me the best Mother's Day present ever..he slept 7 STRAIGHT HOURS! This was a HUGE blessing and it felt so good to get a full nights rest. I know it's probably not the new norm, but I'll take what I can get!
I hope your Saturday is full of smiles as well! :)