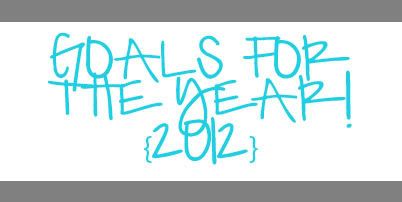 I don't really like to make new years resolutions because lets be honest, I'll break them within a week. Self control is clearly lacking in my life. I do, however, like to make some goals for the year. Things that I would like to accomplish.
I usually don't post my goals, I just keep them unpublished and look back at them a year later but in hopes of being held accountable, here they are.
1. Live in the moment.
This year has been hard. Going back to work full time was probably one of the hardest things I've done. I don't like being away from Kason for 5 days a week. That being said, it's just the way things have to be for now. I felt so busy the latter half of 2011. When I wasn't at school I was stressing about what had to be done for my lessons, thinking about what needed to be cleaned, or belittling myself because I wasn't being the mom I thought I would be. I'm done with all of that now. School work will get done. The house will get clean in due time. I am not a bad mom. I am a learning mom. That is ok. I'm relying on God to show me how to be a better mom. I'm relying on other mom's to help me when times get hard. I am going to live in the moment when I have time to spend with Kason. After school, I am going to fully be involved in what he is doing. We are going to go places and do things and make memories. We did these things this year, but with that stress hidden in the back of my mind. I want to enjoy things when we are doing them. Enough with all of this stress!
2. Learn more about photography.
I have a love for my hobby and I want it to grow. I want to learn more about my camera and photoshop. I want to continue to practice on whoever will let me. I want to not worry about what people think of my pictures but instead just want to focus on improving. To start this off early, I am doing a 1:1 mentoring session with a local photographer on Wednesday. I am so anxious to spend a few hours with her, because she is awesome! Check out her work
here
!
3. Lose some weight.
Ok, maybe that should say get back into shape. I've said it many times, but I'm not that tiny 104 lb. girl I was before Kason was born. Not only did that boy change my heart..he changed my body. Ha! I've been feeling guilty about working out (see #1) and that has not helped my self esteem. I started going back to kick boxing and I think Duane and I are going to join the local gym (again) and try to go. Even if I just go on lots of walks with Kason and Kaia, it will be better than what I'm currently doing. Operation get rid of baby bump is underway!
4. Spend daily time praying and studying.
This one is alway tough. When I was home with Kason, I got into a good routine of reading the bible and praying daily. Then work happened and well, I didn't make the time for it. I don't know where I will fit it into my schedule, but it is my goal to do it every other day. I should make it my goal to do it everyday (bible that is, I pray multiple times everyday) but I know I won't accomplish that goal. I need this in my life. It helps calm me and grow closer to Jesus.
5. Cook more.
I know, I know, I'm beating the dead horse here. I've blogged about my
cooking ambitions
many times when I always fail. Well people, this is my year! Maybe. :) I think I am more motivated to start cooking more because Kason will soon be eating what we're eating. I don't want him eating chicken nuggets every night, so that means this mama needs to pull out the old cookbook, or pinterest! I would like to do better with meal planning and grocery shopping in order to make this successful. I
WILL
cook more in 2012!
6. Go on more dates with my hubs.
Duane and I didn't do too much of this after Kason was born. However, in the past few months we gone out on several dates. Some alone and some with friends. We have 2 couples that we've gone out with a few times and it's SO nice to get out, kid free for a night. We made it a pact to go out at least once a month. I'm hoping to stick to this in 2012. Our marriage craves it, and in order to be an example of a strong marriage for Kason, we need these nights.
7. Get things for Kason's first birthday complete.
This might sound silly, but Kason turns 1 in 3 months and I want that party to be special. I know what you're thinking..."he won't even remember it" but that's not the point. The point is I want to celebrate the fact that my boy has been a part of our family for one whole year. He swept in and stole our heart on March 16 and darn-it, we are going to celebrate his first year and we're going to do it right! Along with his party, I have been working on a photo book full of his first year. Although I doubt I'll have it done by his party, my goal is to get it done by June. Whew, I better head on over to Pinterest asap! :)
8. Blog all memorable events.
This isn't because I think lots of people read my blog. This one is for me. I want to make sure I am blogging for memories sake. Unlike other blogs this one isn't all about fashion, or DIY (although I love those things) it's more about life at our home. I want to make sure I'm writing things down, even if I never click publish. Some of my best posts are ones I keep to myself! That being said..I guess I should blog about Christmas day sometime soon.
Well I think that's a pretty lofty list. I can think of a few more, but for now I'll focus on these 8 things. Hopefully I can come back to this list in 2013 (assuming the world doesn't end..silly Mayans) and realized that I accomplished most, if not all, of these goals.
Happy 2012! :)