I am going to be a mama to a sweet baby boy! Duane and I are SO excited and in love with this little guy already. Baby G is apparently not too shy and the ultrasound tech. knew right away that it was a boy. I wish everyone could have seen Duane's face, because it was absolutely priceless.
We are so happy to welcome this baby boy, but are feeling very blessed that Baby G is healthy. We saw all 4 chambers of the heart, the brain, 2 kidneys, and 5 fingers (on one hand). He was moving around like crazy! The tech. kept commenting on how active he was! At one point we saw his lips moving and his hands up by his face..we might have a thumb sucker on our hands folks! One of the coolest parts of the ultrasound was actually seeing his heart beating. We've heard it many times before, but to actually SEE it was so neat!
As for the name.....you will have to wait until March! We have decided to keep that part a secret until we see and hold our little guy. Since we already know he's a boy, we wanted to keep some element of surprise on delivery day (much to my sister's dismay).
Here are some pictures of our future golfer...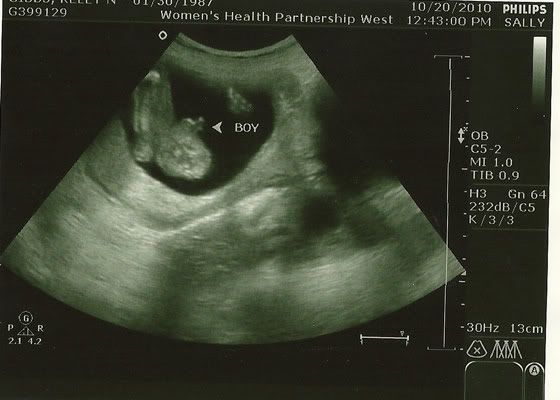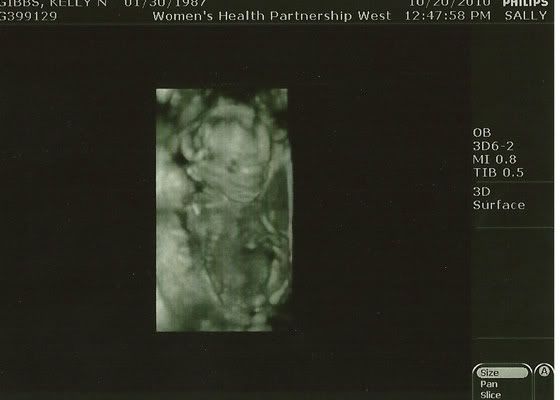 And for my friends that are far away...I'll post the video of the technician telling us that it was a boy! Daune's mom's reaction is pretty funny!
:)
Don't you worry...I already went shopping with my mom and sister and Baby G already has several cute outfits! I have a feeling my debit card might get taken away very soon! :)
Thanks for all of your prayers! :)