As I was looking through pictures the other day I realized I never shared the story of how we told our closest friends and family that I was pregnant. This is something I really want to share mostly for my own memory, but I also thought you might like to hear. After all, I'm sure you love to hear me ramble! :)
So here's how it all went down...
I took a pregnancy test the night we returned from vacation with Duane's family. Believe it or not, Duane was the one that convinced me to take the test. He was just sure it would be negative and my mind would be at ease. I guess God has a different plan! I took the test and locked my eyes onto that little circle. I don't know who writes the directions for those things, but it DOES NOT take two minutes for that sign to show up. At least for me it didn't. I kid you not, 5 seconds after I took the test that blue plus sign showed up loud and clear. I set it down on the vanity and then grabbed on to the glass sink because I was feeling extremely light headed. I remember thinking, how is this possible?! Duane came in not too long after and I couldn't even speak, I just showed him the test. He immediately grabbed the instructions searching for how accurate the test was. He was so flustered he started trying to read the Spanish side of the directions. I do love my husband...:)

I've said it before, my immediate reaction was not excitement. It was fear, doubt, and panic. Lot's of people might look down on me for feeling that, but I'm a real, honest person and I won't sugar coat the truth, especially when it comes to my feelings. I was a flat out emotional wreck. A state I would stay in for a few days. Duane hugged me while I cried and I begged him to go to the store and buy another test just to make sure we weren't getting a false positive. I think Duane was a little worried to leave me alone in my state of panic, but he did as I asked. After all, I was practically sobbing, I was not a force to be reckoned with! :)
As soon as he left I immediately text my sister. After all, she's a nurse and I thought I could talk to her about the accuracy of these test (in case you didn't notice, I was in total denial). My sister came over about 10 minutes later and I drug her into the bathroom with tears in my eyes and showed her the test. "How accurate are these things?" I could tell she didn't know what to say. She knew that I was not trying to get pregnant and could see the obvious fear in my eyes. She assured me that they were fairly accurate, but could be wrong. I'm pretty certain she knew the test was about 99% accurate, but she was trying to be my sweet little sister and keep me from going over the edge. She hugged me while I cried. I am so glad she was there that night. I know it was hard for her to keep it a secret for a couple of weeks, but I'm so glad she knew.
After figuring out my due date and how many weeks I was we did the only thing we knew to do, we prayed. We prayed first and for most for our newly formed baby, and of course, for our emotional state. We debated on who we should tell. We knew we couldn't keep it a secret but also didn't want to tell everyone just yet. I was only 5 weeks and I just wanted to make sure I didn't miscarry. Plus, I needed some time to let this sink in. I needed to figure out how to turn my attitude around. This 24 hour secret was about the hardest 24 hours of my life. I cried through church the next morning, feeling completely and utterly overwhelmed. It was so hard sitting in church with hundreds of people that I know surrounding me, and not being able to scream.."I'm pregnant and don't really want to be!" How awful is that?! I can't even imagine saying that today. God helped me through those 24 hours. He comforted me, and slowly started changing my heart and mindset. Man, I'm glad he did.
We decided we wanted to share our news with our closest friends first. We knew they would pray for and with us. Our friends Todd and Carrie were the first to hear our news. I told Carrie while just Duane was in the room. I didn't even mean to tell her, but said something about needing to talk and of course the next words out of her mouth were..."are you pregnant?" With tears in my eyes I said yes and started crying again. I'm not sure how I had it left in my, but the tears just kept coming. I cried through telling Carrie's husband Todd, and then pulled it together. Todd and Carrie assured us that this is God's plan and that we could do anything with him. Simple words, but very much needed words. They also promised us that they would be there to help us with a new baby, and anything we needed along the way. Such good friends :) They were so excited amidst the large amount of shock we were all feeling.
After we shared our news with the Liles, Duane went to play golf with the guys and I stayed in the comfort of Carrie. Another one of my best friends, Lauren came over and I told her immediately. I wish I had her reaction on camera. She started clapping and yelling and hugging. It was a classic response. For the next hour or so the girls sat around and talked about babies. Up until this point I hadn't even thought about actual "baby" things. It was good to talk about and I started to actually warm up to the idea. We told our friend Isaiah later that night, and he was SO excited. He has NINE nephews now, so he'll be a pro by the time Baby G is born!
I know I say it a lot, but our friends really are like family. Duane and I are so blessed to have great, real, true friends that are always by our side. These friends helped Duane and I reassure ourselves that we could do this. Was it our plan? No. Were we upset at first? Absolutely. Did we ever question God? Absolutely not. God wants Baby G in our lives for so many reasons.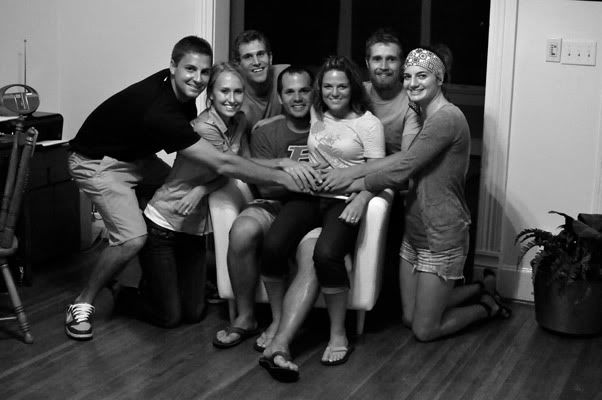 This picture was taken the night we shared the news with our friends. As cheesy as it looks, It shows me how much Baby G is already loved.
We waited a week until we told our parents. Knowing they totally weren't expecting baby news from us for quite sometime, I knew it would come as quite a shock. I wanted to ensure that I came up with a creative way to tell them. This was such a surprise that I probably could have told them anyway and they still would have been shocked. However, I chose to buy two jars of Prego spaghetti sauce and attach a note. I decorated it with baby stickers and attached a note that said..."Kelly is prego! Congratulations you are going to be grandparents!" I put the jars in a gift bag and off we went.
They looked a little something like this. . .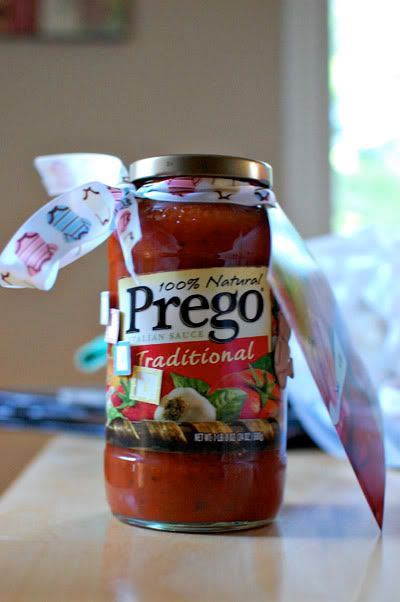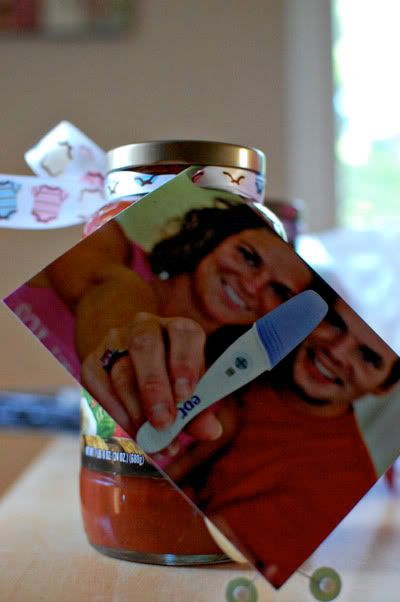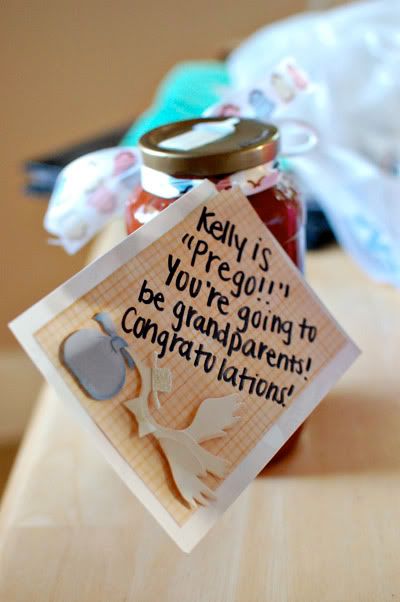 We told Duane's parents first. His mom opened the gift and was a little confused at first until they read the note. After that, there was lots of screaming and jumping and hugging. I know how shocked they were, so this was a welcomed reaction. They were so excited to have 3 grandchildren in the next few months! My parents had the same reaction. Mom was thrown off by the prego jar, but my dad knew right away. He saw the note and goes.."oh man!" And then my mom realized what was going on. They reaction was shock but also excitement. They were going to have their first grandchild, and I know they couldn't be more excited! I called my youngest sister at my parents house (since she was at school) and she was so excited to know that she was going to be an aunt! Just like our friends, we couldn't get through this shocking news without our families. We are so thankful for them!
It's now been 12 weeks since I took that pregnancy test. I couldn't be more excited to welcome this baby into our family. The first week of initial shock was a little rough, but I am so glad God was there to comfort me. I remember telling Duane the night I took the test..."I know I shouldn't be upset because once I hold that baby I will regret the time I wasted being sad." Well, It only took me about 2 weeks to really regret those feelings. Now when I sit in church I want to scream..."I'm pregnant and can't wait to hold this baby in my arms!"
Thanks for reading.